By Brook Talsma,
I sat towards the back near the exit for over a month, knowing I could escape unnoticed, not having to talk to anyone if my relational anxiety in making small talk with strangers was too high, though it was difficult to escape Miss Vivian most Sundays. I longed to be entrapped in a conversation with anyone who took interest, almost as much as I longed for the comfort and solitary of my car on the drive home from church. After only three Sundays, I knew South City was where I wanted to make my church home, but the hard work of making it feel like home was daunting.
I did my best to get involved, not waiting for others to make the first move, even though I really wanted them to do so. I began playing bass when needed, went on the women's retreat weekend, though at the time I didn't want anything to do with women's retreats (If you're a woman, you should go this year, by the way. They're really wonderful). I attended new members class and a few Sunday School classes. I began teaching the 3-5 year olds on a monthly rotation during worship. Eventually, I joined a Community Group, which lead to some closer friendships. All-in-all, I felt like I had my foot in the door. It wasn't quite satisfactory.
It wasn't until we began having work days nearly every Saturday, upon buying our current building, that I felt I belonged. It wasn't until I began serving the body at South City, making the sacrifice of my time and offering my unique gifts and talents that I felt like I'd finally arrived at home. The byproduct of my service was joy. It was surprising, and I wanted more. I found other ways to serve within how the Lord has made me, and the result was even more joy.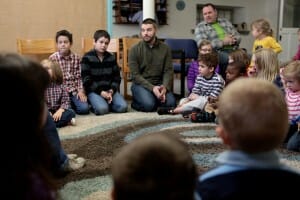 We are a body of many parts, and I had been withholding my part. Let's call it a finger. The finger on its own didn't offer much, but when used with the rest of the body, it became part of a hand, which was attached to a wrist, which was part of an arm, of a shoulder, of a torso, of a body. By attaching itself to the body, the finger gained a significance that made it exponentially more useful and a part of something bigger than itself. I think that's one reason serving brings joy.
Serving brings us into relationship and asks us to look beyond ourselves, and hopefully to the greater purpose of furthering God's kingdom. A self-centered focus tends to bring only loneliness.
South City has many obvious places that need the different parts of the body to serve. There's an upcoming ministry fair that will highlight most of these. But, I will invite you to look beyond the obvious as well. Recently, I acquired a coffee grinder for the church, because I love great coffee. But more so, I love making great coffee to share with others. My love of coffee is a part of me that I get to share with others. It doesn't feel like work, because it's a one of my passions. What is it about which you are passionate? How can that be translated into serving the Body of Christ at South City? Will you let your passion be turned into service resulting in joy?
Need help figuring it out? Grab me and let's have some coffee and talk about it.
Brook is a Deacon and the representative for the Building Committee
She serves in Hospitality, Children's Worship, and the Music Team
---