Staff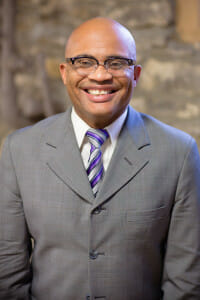 Mike Higgins,
Lead Pastor
Email Pastor Mike
Mike and Renee Higgins came to South City Church in 2012. Mike attended Covenant Seminary earned his MDiv in 1996 and served as a PCA pastor in Chattanooga, Tennessee and Atlanta, Georgia before returning to Covenant Seminary as Dean of Students in 2011. He is also an army chaplain (COL) assigned to the Pentagon. In May 2012, Mike earned his DMin from Covenant where his focus was the "Experiences of African American Church Planters in the PCA." He has been married to Renee for 33 years, has two daughters, Mary and Michelle and two grandchildren, Moses and Mattie.
Why is the Gospel good news? The Gospel brings a message of reconciliation and hope from, through and to the Almighty God who seeks to reclaim and rescue His people from every race, tribe and culture and bring them back to Him through the redemptive work of Jesus Christ. The Gospel is the real Christmas Story of God's amazing grace in providing the gift of salvation.
Becky Kiern, Director of Community Life and Women's Ministry
Email Becky
I am ever grateful for the road that the Lord has (and continues to) lead me down. Over 5 years ago that road led me to St. Louis and eventually to the welcoming doors of South City Church. After graduating from Covenant Seminary in the summer of 2011 with a M.A. in Educational Ministry I have had the great blessing of working with the beautiful women of our church and community. In the summer of 2013 I had the great pleasure of increasing my role to include facilitating the other adult education programs of the church.Why is the Gospel good news? The Gospel is THE good news because I am a broken person living in a broken world. I need hope for this moment, for today and for all the days ever after. I am filled with this eternal hope by the promises of God. He not only cares about my brokenness, but He loves me enough to enter into my messy life and usher in change.
Michelle Higgins, Director of Worship and Outreach
Email Michelle
Michelle Higgins has been a choir director, event coordinator, youth ministry director, gospel-funk lyricist and lead singer. Michelle was born in St. Louis and has lived near Fairgrounds Park, Forest Park, Benton Park and Tower Grove Park. She currently serves the African American Leadership Development Conference of Saint Louis. She has served as choir director for various Missionary Baptist, COGIC, Non-denominational and Presbyterian churches. Michelle has deep roots in the African American pentecostal tradition, but her ambition is to encourage and participate in blended worship with all the nations. Michelle holds an M.Div from Covenant Theological Seminary and lives in Old North Saint Louis with her husband, Sean Loftin, and two children, Moses and Mati.
Why is the Gospel good news? The gospel is good news because it is the truth. It is the candle to which we hold all things. We are set free by this news and yet it calls us to serve. We search and research and ponder over the gospel, and yet in it we find meaningful answers to life's profound questions.
Sam Haist, Assistant Pastor Email Sam

My wife Katelyn and I have been a part of South City Church since we moved to St. Louis in July 2010. We are beyond thankful that the Lord has opened doors for us to continue participating in his kingdom work here in South City. My role largely focuses on supporting our community group leaders, developing our men's ministry, and supporting SCC's seminary interns and youth ministry volunteers. I also serve SCC's mercy and justice ministries as a deacon. Katelyn is a teacher at South City Community School, and we are currently living large in the Tower Grove area with our dog Ethel. I hold an M.Div from Covenant Theological Seminary and also studied theology during undergrad at Calvin College.

Why is the Gospel good news?The Gospel is good news because it gives me great hope in the midst of our broken/beautiful world. Though there is so much junk in my life, so much sin in myself, so much brokenness in my community, Jesus' life, death, and resurrection is the triumph of grace. He has conquered sin, death, and hell on our behalf, and his resurrection guarantees that, one day, he will wipe every tear from our eyes and make all things new (Revelation 21:1-5).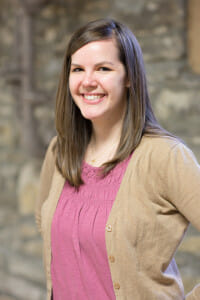 Erin Perrin, Children's Ministry Coordinator
I've been married to my husband, Ben, since June '07. We moved to St. Louis in July '09, and started attending South City Church as soon as we got here. I became the Children's Ministry Coordinator at SCC in August '10 – a job that I couldn't love more!!
Why is the Gospel good news? Because it means that I don't have to have it all together all of the time. I am confronted on a daily (hourly, moment to moment…) basis with my own sins and imperfections, so it is wonderful and liberating to know that I have a Savior that has already conquered sin and death on my behalf.
Lindsay Perkins,
Administrator
I am happy and grateful to be John's wife, and mother to Eva, Shepherd, Clementine, and Juniper.
Why is the Gospel good news? Because not only has Jesus saved me, but my heavenly Father is never tired, never poor, and never too busy to listen.
Elders
Stacey Clear,
e-mail
I live in the Benton Park neighborhood of St. Louis with my wife Stephanie and son Daniel. When not practicing my vocation as an architect (buildings, NOT computers!), I enjoy bicycling, exploring the city and taking family hikes in nearby state parks. I am an omnivorous reader (any redemptive recommendations?). I like a good beverage and may snag you sometime for some fellowship at a nearby coffee house or brew pub.
Why is the Gospel good news? Because it is Love that brings Life – to me, to His church and to any who choose Him. The Gospel gives meaning to the past, peace and security in the present and great hope for the future.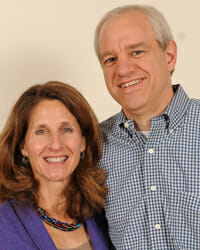 Dale Guariglia, e-mail
My wife Julie and I have four daughters, Mary Lara, Anna, Martha and Isabelle and one son-in-law, Jeffry. I am an attorney with the law firm of Bryan Cave LLP. In 2007, we joined South City Church when Olive Branch Presbyterian, located in the Benton Park neighborhood, and SCC merged.
Why is the Gospel good news? Because it tells me of my adoption into God's family as His son.
Kyle Keating, e-mail
Christy and I moved to St. Louis in 2010 and started attending South City Church not long after. I was ordained as a ruling elder at South City in 2014. I teach history and theology and coach girl's basketball at Providence Classical Christian Academy in South County. Christy teaches Spanish at Parkway Central High School. My interests include but are not limited to: theology, books, coffee, and sports (and Oxford commas).
Why is the Gospel good news? Because it tells the True Story of the tragedy, comedy, and fairy tale of reality: tragedy because the world is not the way it is supposed to be; comedy because God's act of unparalleled grace through Jesus Christ marks the unexpected turning point in the story; and fairy tale because God is re-creating the whole cosmos to be a place of perfect shalom.
Patrick O'Banion, e-mail
I was ordained as a ruler elder in the PCA in 2008. I've been a part of South City Church since 2006 and have lived in the neighborhood since 2003. My wife, Rachel, works for an adoption agency in southern Illinois, and I'm a professor of Reformation-era history at Lindenwood University in St Charles.
Why is the Gospel good news? Because it is the great exchange of our sin for Christ's righteousness. "Christ," said Martin Luther, "is full of grace, life, and salvation; our souls are full of sin, death, and condemnation. Let faith step in, and then sin, death, and hell will belong to Christ, and grace, life, and salvation to the soul. For, if he is the church's husband, he must take to himself that which is his wife's, and, at the same time, give to his wife all that he has.
Deacons + Deaconesses
Deacon Beacon
If you have a need for the deaconate, please call the "deacon beacon" at 314.329-1575.
Jon Easterling, e-mail

I am a St. Louis native and one of the founding members of South City Church. I work as a bank auditor, crafting spread sheets and analyzing financial statements. Which comes in handy for my role as the Chairman of the South City's Financial Committee. In my role as a deacon I hope to rely on God's guidance as we manage the church's finances. Placing emphasis on Accountability, Transparency and Faith in God's Providence for our church. When I am not working with the church budget, I enjoy teaching the church's preschool children stories from the Bible during Children's Worship. I am on a perpetual journey to be delighted by the Creator's beauty and creativity, hence my love for good food, wine and beer, fly fishing, classic films, hiking, and riding my motorcycle.

Why is the Gospel good news? Because it is something that is simple enough for a young child to understand and yet profound enough that new truths are revealed to me constantly.
John Patton, e-mail

I was ordained as a deacon at South City Church in May 2011 and consider it an honor to serve the congregation here. My wife Annie and I, along with our three children, Olivia, Evans,and Lucas, live in Brentwood and have been in St. Louis since 2006. I work in the administration at Covenant Theological Seminary and am a Th.M. student there as well.

Why is the Gospel good news? It brings true joy and contentment. There are so many things in my life that I can expend my energy on in order to find those things that will fulfill me once and for all. In Jesus Christ's life, death, resurrection, and ascension I can make sense of why I am here and what I am called to. I am supremely loved by God and have found peace in Him.
Jason Jung, e-mail

My magnanimous wife, Megan and I have lived in St. Louis since 2008 and been at South City Church pretty much since then. We have been blessed with two sons, Townes and Avery, who continue to teach us about God's unyielding provision and our own frailty. If you haven't met them yet, you need to. We also have a dog named Franny who thinks she's kind of a big deal. My wife is a counselor and I work as a graphic designer and manager for a multimedia company.

Why is the Gospel good news? Because it acknowledges the struggles of life and assures me of a place and purpose in God's kingdom. The good news of God's promises is also a call for us to live life as it's meant to be and doing so we all get a chance to take part in his coming kingdom.
Ben Perrin, e-mail

I married my high school sweetheart, Erin, in June 2007. We moved to St. Louis in July 2009 so that I could continue my education. I am a graduate student at Covenant Theological Seminary working towards a Master of Arts in Counseling. In May 2012, I will graduate with my MAC and I hope to be working towards becoming a licensed therapist. I've been blessed to be a part of South City Church since August 2009 and I was called to serve on the Diaconate in May 2011.

Why is the Gospel good news? The Gospel is good news to be because it allows me to be me… in all my broken, ugly, truest forms. The Gospel reassures me that there is nothing that I can do to earn my salvation and that is a huge relief! I can rest in the arms of my Savior and knowing that his sacrifice is enough to cover my sins and gain my salvation.
Emily Zdenek, e-mail

I've been working for a biotech company for the past 7 years and am changing gears a bit to pursue a career as a Physician Assistant.

Why is the Gospel good news? Because through it I know that Jesus continues to rehab my messy heart and make my ruins glorious. Jesus' love for me and work on the cross have given my life infinite depth, and it is out of  this depth that I am able to love and serve South City Church, St. Louis, and  the world. Without this depth…well, I make things rather messy.
Marianna Cymbala, e-mail

I work in the medical records dept at St. Alexius Hospital.

Why is the Gospel good news? Because of God's forgiveness and He overcame death. There is nothing that He can't fix. He is the great Healer, too.
Julie Fishbein, e-mail

I have lived in St. Louis for most of my life, and after receiving my undergrad at Taylor University, I graduated from Covenant Seminary in 2010 with a Masters degree in counseling. I'm currently a licensed professional counselor working as a family therapist for Epworth Children and Family Services. I'm so thankful for South City Church and I enjoy serving on the worship and women's ministry teams, as well as building relationships and studying the Word in my community group! I enjoy spending time outdoors, traveling, running, trying new restaurants, and – of course – cheering on the St. Louis Cardinals!

Why is the Gospel good news?The gospel is good news for me because it provides absolute freedom from thinking I have to have everything together, reminding me that my sins are already paid for, that God loves me unconditionally, and that I am his. It offers me rest and peace in the arms of a loving and mighty Savior.